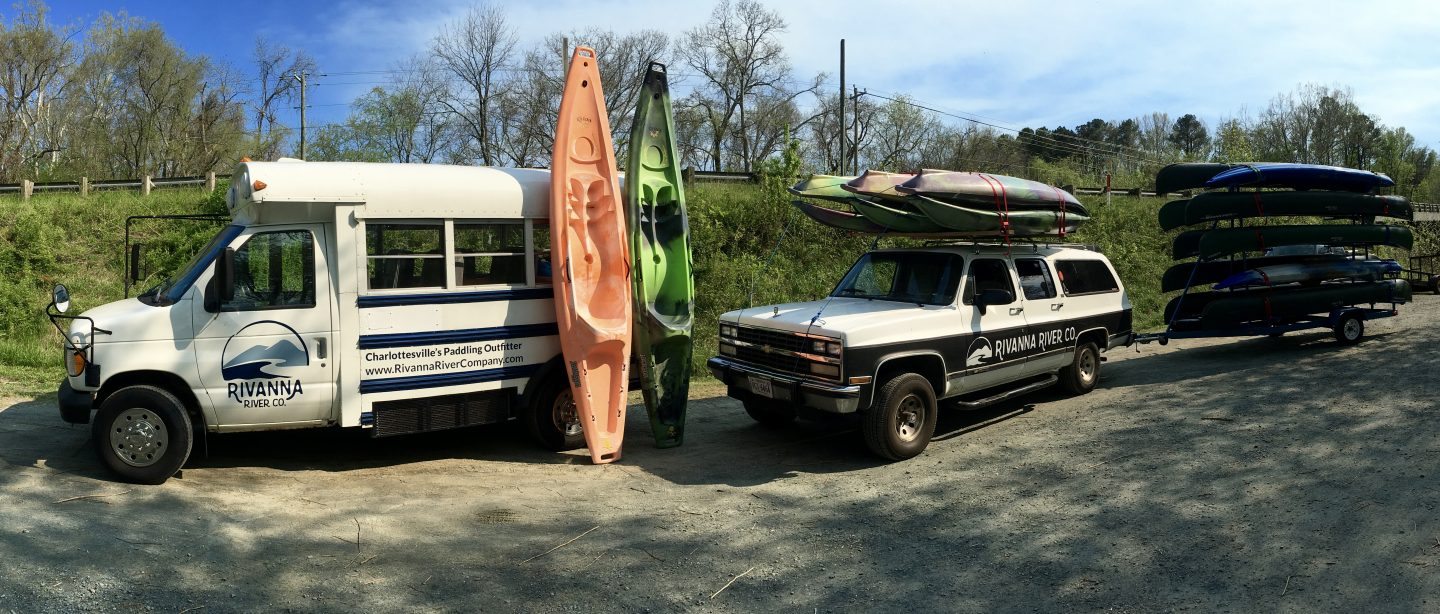 After reserving equipment online, please sign the online waiver from the link in your confirmation email.
We are happy to provide tips on places to go paddling. If you aren't sure if your car can transport equipment, try renting one of our Stand Up Paddleboards, which can be transported on or in virtually any vehicle.
Daily Rental Rates, Equipment Only 
Includes boat, life jacket, paddle, and strap rental for one day (all equipment due back by 5:00 PM).
Customer is responsible for loading, transporting, and returning equipment. 
Rivanna River Co. staff can offer some guidance on loading the equipment on your vehicle, but Rivanna River Co. is not responsible for securing the load or for any damage or injury that occurs related to transportation of the equipment.
Please see the Trip Schedule, Details, and Prices page for full service trips with shuttles included.
Canoe: $40
Solo Kayak: $32
Tandem Kayak: $40
Stand-Up Paddleboard: $40
Tube: $15
Canoes- Old Town Discovery canoes are perfect boats for taking to rivers and flatwater with the family, the picnic lunch, and the dog. These tandem canoes are paddled by two, and a small child can ride in the center of the boat as well.
Kayaks– You will enjoy paddling our sit-on-top models from Jackson Kayak. Comfortable, stable, and easy to get in and out, these boats are perfect for beginners. We carry both single and tandem models.
Stand-Up Paddleboards- Stand-Up Paddleboarding is a relatively new sport that combines the fun of paddling with the balance of surfing. Our rigid, inflatable SUPs are amazingly lightweight and beginner-friendly. These SUPs are very stable on the water while being quite easy to transport with almost all cars. 
Tubes– Our river tubes are large vinyl tubes that are specially designed for your comfortable float trip. Sit back in one of these tubes and feel instantly relaxed!
Give us a call with any questions about our equipment and how it can help bring your next adventure to life!    (434) 218-2052