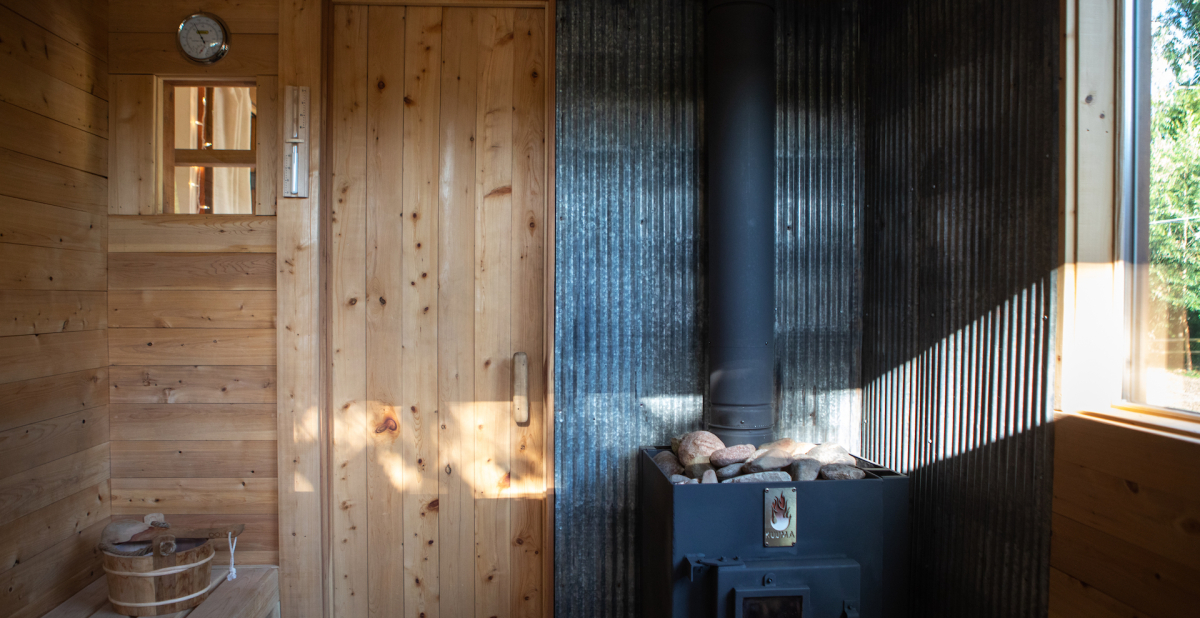 We built our sauna by hand in 2022 on a 20′ tiny house trailer. The sauna features a 7'x10′ hot room paneled  in Eastern White Cedar wood from North Carolina and heated by a Kuuma sauna wood stove built in northern Minnesota. By consulting with sauna expert Glenn Auerbach (www.saunatimes.com), we were able to design a well-ventilated, comfortable, and authentic sauna. All the heat comes from very local firewood, much of which we gather and process ourselves. Guests do not need to add wood or mess with the stove, but they can enjoy a view of the flames through a glass viewing window on the front of the stove. The hot room capacity is comfortable for 8 and cozy for up to 10 friends.
The changing room/lounge is a rustic but comfortable space with bench seating which maintains a nice temperature even in winter. A curtain provides a private changing room, and the space can also be used for relaxing in. If cooler air is preferred, our 20'x20′ deck has many comfortable chairs for taking in the crisp temperatures outside.
Our primary cold plunge is the river. Stairs and a landing that we use in our river outfitting season make for easy access to the water. The water at the base of the stairs is typically no more than 3′ deep, perfect for sitting down for a cold plunge. If river conditions are not conducive to river plunging, we will set up a bathtub style plunge. Bucket showers are always available for those wary of the the full plunge! Their are lots of ways to cool down, and sudden cold may not be appropriate for all guests. Simply relaxing on the deck for long enough can be enough to cool down.
We strive to make our space comfortable and pleasing to the senses. That being said, we are not a spa. We are a semi-off grid RUSTIC sauna, close to nature, best enjoyed with the spirit of adventure. We are very excited to offer a selection of cold and hot drinks, snacks, and charcuterie for post-sauna time. Many sauna goers find this one of their favorite parts of the experience….lounging, chatting, connecting, laughing and experiencing the mellow bliss of a body and mind that have experienced some extremes.
Speaking of the post-sauna lounging time, we are excited to unveil a new space that will allow our guests to hang out, chill, and snack to their hearts content, even after new guests are starting on their own sauna session. What we lovingly call The Cantina has been an open-air pavilion shed until recently, and now it will be a sunroom-style semi-conditioned lounge for the sauna season. We couldn't be happier about all this, and we can't wait to welcome you to enjoy all of the components of this invigorating and ancient practice.