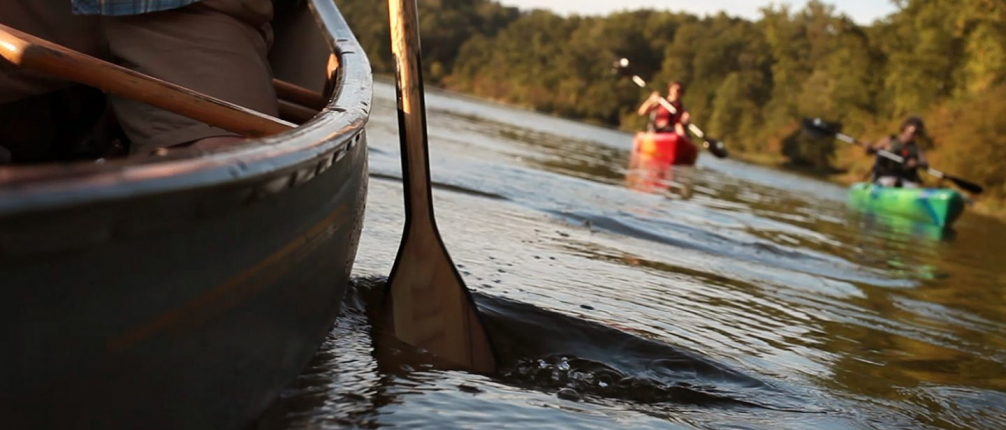 Here is a brief list of paddling destinations compiled by RRC for informational purposes. Please keep in mind that proper skill, equipment, and knowledge of current conditions are essential for managing risks inherent in any water activity. Please always wear a life jacket!
Lakes and Reservoirs: Flatwater paddling is a peaceful pursuit great for serenity, exercise, exploration, and family time. Paddling these lakes is also the place to get comfortable with your equipment, even if your ultimate destination is a river. Generally, no swimming is allowed in the reservoirs, and no gasoline motors are allowed on boats, keeping it clean and quiet. Here are some local waters that were you can use a canoe, kayak, or stand-up paddleboard (SUP). 
Rivers: There are several wonderful rivers to enjoy in the area. Good information on specific trip logistics and ideal river levels is available in the books "Virginia Whitewater" by Roger Corbett and "Classic Virginia Rivers" by Ed Grove and online at www.americanwhitewater.org. Paddling rivers should only be taken on with skill and information about current river conditions. Rivers can have dams, difficult rapids, and down trees that you need to know how to avoid. High water levels can make a relatively "easy" river deadly.   
James River– This is the large river that all our local rivers flow into. It defines the southern edge of Albemarle and parts of Nelson Co. It flows a total of 340 miles across the state from the Allegheny's into the Chesapeake Bay.  Being a larger river, it will have more water in late summer when smaller rivers are too low and rocky to paddle. www.dgif.virginia.gov/waterbody/james-river-upper-middle/
Rivanna River– This State Scenic River flows through Albemarle, Charlottesville, and Fluvanna where it joins the James. It is great for paddling, fishing, and tubing much of the year, and in some sections is a gentle river suitable for beginners at normal water levels. www.dgif.virginia.gov/waterbody/rivanna-river/
Moormans River

– Flowing out of Sugar Hollow, this smaller river has a few challenging rapids and can generally only be paddled in the spring.  It joins the more docile

Mechums River

to form the South Fork of the Rivanna River.

Rockfish River

-The Rockfish is a beautiful river flowing through Nelson Co. on its way to the James. There are many stretches worth paddling and fishing, generally in the spring or during a rainy period. 

Tye River

– A great whitewater river to challenge your skills in southern Nelson Co.